Discover more from A Quiet Moment
Letters from a highly sensitive, forest-wandering introvert; a space for photography, nature, and quiet moments.
It feels as if we are on the edge of falling into winter, but the snow just hasn't arrived to stay quite yet. I can find rolling green moss in the forest, frost-coated leaves in the open meadow, and snow-caked trees on the mountainside — it only depends on which direction I look.
While many years would already see us blanketed in mounds of snow, I am glad this is not one of those years. The forest is still open to wandering, not yet restricted to a few trails. The moss is still vibrant and spongey, rehydrated after a long dry summer.
Though we have had one or two snowfalls — they have melted within a few hours of falling, leaving behind small heaps of white in the shady corners.
Leaving the forest and stepping into an open meadow, I am greeted by one of my favourite signs of the approaching winter — frost. Sometimes it snows before I get to enjoy the frost, but I have stumbled on the perfect place to capture the icy crystals this year.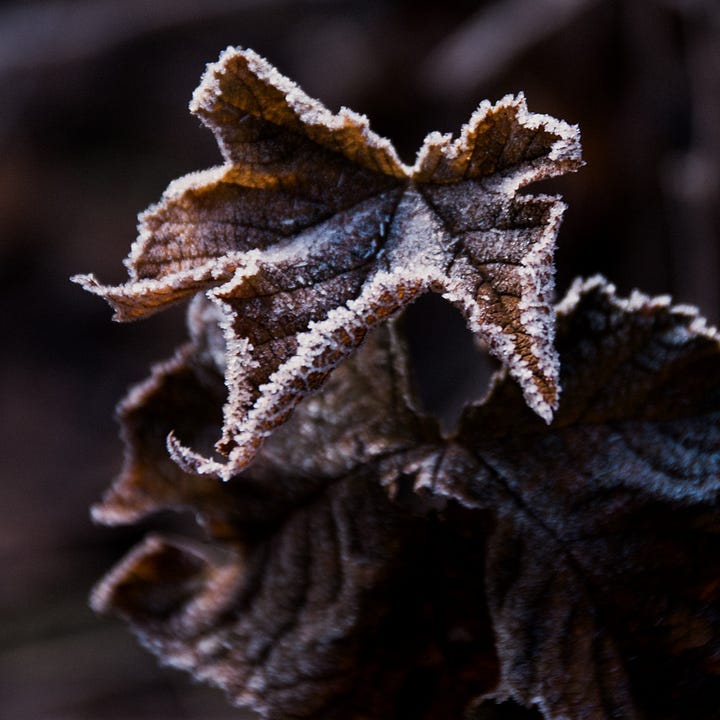 The warm beams of sun catch the frost and everything sparkles and shines.
In the shadows, thick frozen droplets and layers of frost adorn the still-green leaves of foliage, creating a piece of magic frozen in time.
And finally, a peek at the peaks, where winter has made itself known and snow has settled onto the trees covering the mountains.
The snow on the mountains is stunning to me; but more excited are all the skiers and snowboarders, impatiently awaiting the mountain's opening day later this week. For me, I'll continue to enjoy my view from the valley.
Until next time,
♡ Whitney
---
I have been working on some new collections of my work and I hope to release these soon. All my current prints are 25% off until they leave the shop with the arrival of my new pieces. Shop the print sale here.
---
Subscribe for more forest wanders and captures of the quiet magic of nature in beautiful BC.